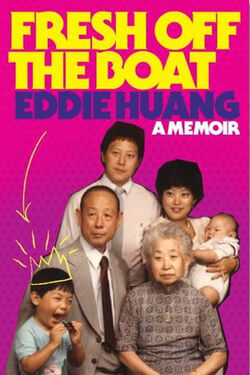 Fresh Off the Boat is a memoir by chef/restauranteur/food personality Eddie Huang. It was published in 2013. The memoir relates Huang's early life and rise in the food celebrity scene in New York. The book's main plot narrates his relationship with his Asian background and how that affected his life and relationships with other people.
Fresh Off the Boat is being adapted into a television sitcom also called Fresh off the Boat.
Plot
Huang's memoir gives detail about his childhood in Washington, D.C. and then in Orlando, FL. It describes his growing love and passion for hip hop, his lifelong interest in cooking starting with his mother's Taiwanese cooking at home, and his brushes with the law along with fleeting careers in comedy, law, and illicit dealings. Through it all, Huang tries to explain how his Asian background influenced him.