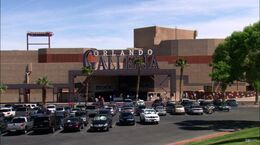 The
Orlando Galleria
is the central supermarket of Orlando. It first appeared in the episode
So Chineez
. where
Louis
opened up a
Cattleman's Ranch Steakhouse
restaurant in the food court called
Cattleman's Express
.
Biography
The Orlando Galleria first appeared in the episode So Chineez, where Louis introduced the place to Jessica, showing her that he's opening a food court store for the Cattleman's Ranch Steakhouse franchise called Cattleman's Express.
The Orlando Galleria returned in the episode Good Morning Orlando, where Eddie, Dave, Trent, Brian, and Walter's girlfriends, set up a group date with them at the Galleria. Their date, however, was simply them passing by each other on the escalators and saying "hi" to each other.
The Orlando Galleria appeared again in the episode The Big 1-2, where Louis and Jessica were seen shopping for Eddie's birthday party, assuming that the reason he told them that he didn't want a parly earlier, was because he wanted to be surprised. They went through the mall, with all of his decorations, only to find out that he was already celebrating his birthday with his friends, secluding himself from his parents.
Episode Appearances